what we do
YPI grants hundreds of thousands of dollars to community-based social service charities each year, 100% decided by thousands of high school students in our school-based philanthropy project. YPI is offered free of charge to secondary schools, with one major enrolment requirement: it must be provided inclusively to all students across a grade level, as a marked project within any mandatory course. YPI currently works with secondary schools in Canada, Scotland, New York City and Northern Ireland.
The YPI Process: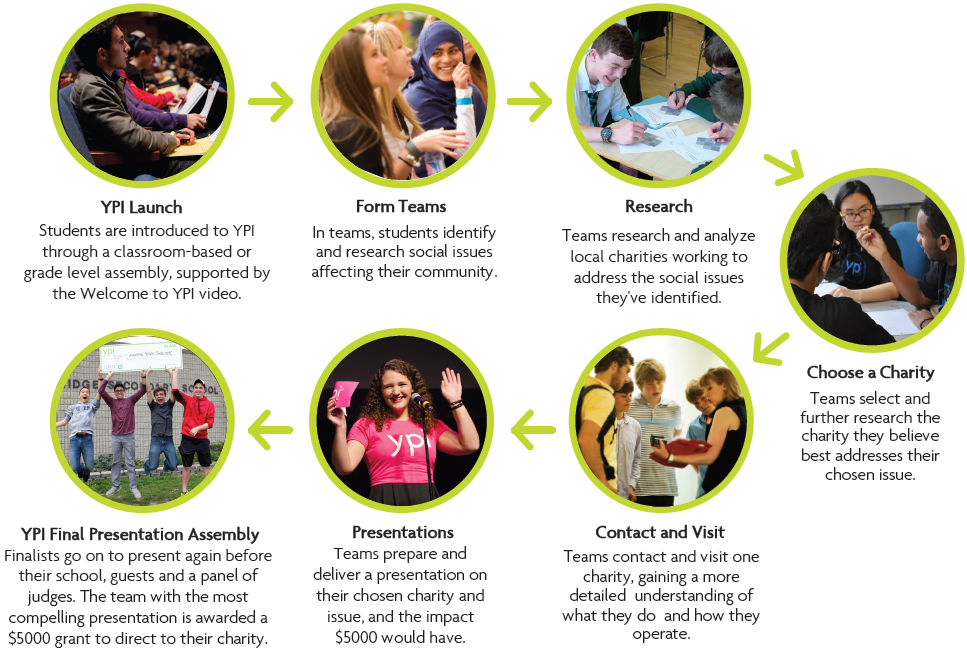 Leadership in Leveraged Grant-Making. Engaging Youth with Authentic Responsibility.
Enrollment
Inclusive to all students
Course delivery options
Teacher/admin training
Environmental scanning
Resources & Staff
Curriculum package
Web resources
YPI staff support
Reps at each school
School & Community
Teacher engagement
Administrative support
Cross-dept connections
Charity site visits
Evaluations & Innovation
Formal evaluations
Knowledge sharing
Resource revisions
Innovative culture
Stage One: Pre-enrollment
Environmental scanning is completed to determine the number of secondary schools/students, and the estimated number of eligible charities in a community.
Most schools apply by word of mouth (teachers/principals approach us), but we have demonstrated the capacity to enroll and scale up to an additional 50 schools per year (when funding commitments are in place).
Schools are supported by YPI staff to determine best fit for project in their context.
Schools commit to running YPI as a project within a mandatory course, and appoint a Lead Teacher.
Stage Two: In-year Programming
Teachers receive introductory training, full program resources, and ongoing staff support to run YPI as a curriculum-linked project in all sections of a mandatory course. (Approx. 8-12 hours of instructional time plus team work and charity site visits over a minimum of four weeks).
Students are given authentic responsibility and decision-making power throughout the entire YPI process, which sparks, then sustains, their motivation to personally engage.
All students receive in-school support from engaged educators and school administrators, who are in turn supported by YPI staff.
YPI is used to meet a variety of school-wide objectives, which are often enhanced by the opportunity for cross-departmental collaborations (e.g. media production, presentation skills, career options)
Students form positive relationships with charities and adults who inspire them.
Successes and contributions are celebrated in schools and through media/social media, coordinated by YPI, schools and local media outlets.
YPI provides monitoring and support, and conducts formal and informal evaluations processes.
Stage Three: Post-Program
YPI grants are sent directly to charities on behalf of each school's student team.
During YPI plenary session, teachers and students evaluate their efforts, and determine future direction for staying involved in local needs, charities and community issues.
Students receive recognition and positive reinforcement for their contributions.
Schools receive post-program and re-enrollment support.
Finalist charities receive follow up and recognition from YPI staff.